Intro
Author: Catherine Melo Date Posted:26 July 2018
An introduction to Burrow and Be. A little about me, the business and the values behind it.
Burrow and Be intro -
Blog 26.07.18
Welcome! This is my first Burrow and Be blog so I thought I'd tell you a little about me, the business and the values behind it.

I'm Catherine Melo. I established Burrow & Be in 2013 when my children were aged one and five.
I have a Bachelor of Design and worked as a screen printer before spending 10 years in graphic design. Through the last company I worked for, I learnt a lot about what was involved in running a business - so I was pretty keen to start my own venture.
Naturally, with a love of interiors and design, and the inspiration of my two children, it made the idea of designing and screen printing bed linen and soft furnishings for kids - an exciting prospect.
I started small, doing my screen printing in the basement of my parents' house, selling through markets first and then - going online.
The positive feedback I got encouraged my husband and I to invest in a garage with a studio space so I could actually clear my work from the dining table. But guess what - our cars still sit outside and the table is still cluttered - even though I've now moved the business to an offsite warehouse.
The new space includes an outlet store, office and it's given me the opportunity to expand my range of bedding products and include children's clothing, which I must say, I am absolutely delighted with!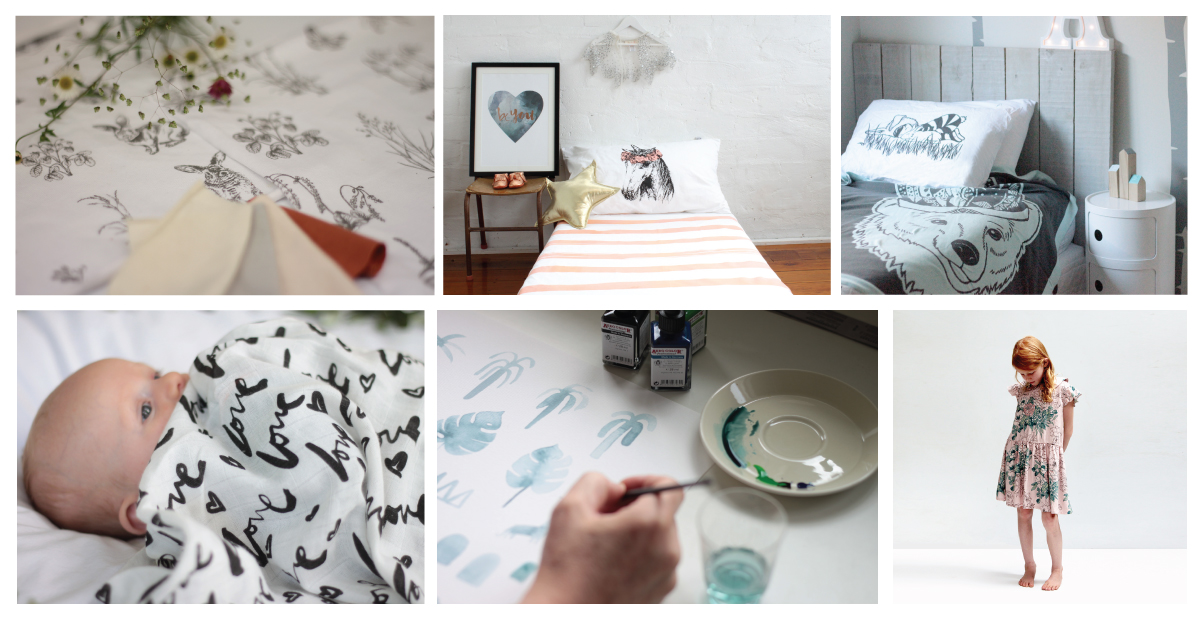 Collaborating with designers has become part of my business model. Having my own business is great but it takes a lot of energy to keep it moving forward so I'm happy working in collaboration with other designers.
My first collaboration was with Shelley France, my step-mum, who drew Mr Hopkins, the charming rabbit who featured on my first screen printed pillowcases and also all the illustrations in the Burrowers in the meadow collection.
And as my customers will know, I've since worked with other talented NZ artists (and just recently an artist from the the USA) to bring a variety of design styles to Burrow and Be products. When I have an idea or vision for what I'm wanting, I work with these artists to bring my vision to life. I love the way that collaborating brings fresh interpretations and design elements to my ideas.
(By the way, if you're an artist and feel we could work together, I am always interested in new design concepts so do get in touch!)
Nature itself has been the inspiration for many of the Burrow and Be fabric designs. I grew up at Piha, running through the bush, playing in the streams, and surfing - so learnt the value of caring for our environment. And because I am the Burrow and Be brand, I feel obligated to create products that are environmentally friendly and ethically produced.
I'm now working with fabric manufacturers who are GOTS

(Global

Organic Textile Standard) certified. The dyes used are non-toxic, environmentally safe, and most of my packaging uses biodegradable cardboard.
I am aware of the need to keep the waste in our world to a minimum as it is our children who inherit the problems we cause. To this end I want my products to last, be cherished and passed on to others.
---
Comments (2)
Love your brand and the ethical cause behind it

By:

Nhung

on 28 July 2018

Oh how inspiring Catherine- what a journey you and family have gone through together and I am so glad it is working out so well for you. I love your brands and you designs are so elegant and nature. My daughter loves her dresses as they are comfortable and beautiful. Wishing you all the best with this journey and will continue to support your brand where I can- knowing I am supporting a mum to fullfill her dream x
---
Well done

By:

Donna wright

on 27 July 2018

I love seeing all the new creativity around. How social media makes it available to inspire others. Well done , your work is amazing. Just gorgeous
---
Leave a comment